Kyani Sunrise® Packets
By: KyaniHawaii
Complete Nutrition & Antioxidant Powerhouse
This Kyäni Sunrise pack comes in 30 - 1 ounce pouches. If we could feed our bodies the most remarkable, natural foods from around the globe to ensure our highest level of nutrition, we would choose the Wild Alaskan Blueberry (The King of Fruits) and the sixteen additional Superfoods found in Kyäni Sunrise. With 5 times more antioxidants than cultivated blueberries, research has confirmed that blueberry consumption boosts serum antioxidant levels to protect against damage to cells and may reduce the risk of many chronic degenerative diseases. Superfoods including Pomegranate, Red Raspberry, Amla Berry, Panax Gingseng and many others provide Kyäni Sunrise with an amazing spectrum of rich-colored, vitalizing nutrients that provide incomparable health benefits. Taken in the morning to provide maximum bioavailability, Kyäni Sunrise will help you experience optimal health. Try it for yourself!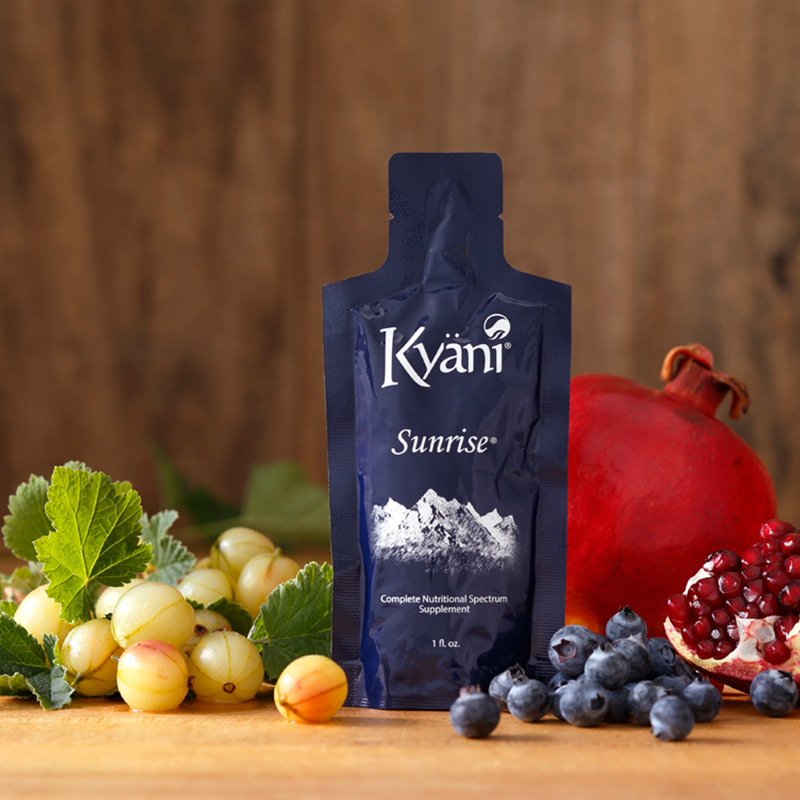 KYÄNI SUNRISE® MULTIPLE DIMENSIONS OF HEALTH The human body is a complex network of interrelated systems. Kyäni Sunrise® was developed to promote optimal health by supplying essential vitamins, minerals and trace elements to all of those systems. The diverse sources of nutrition provided by Kyäni Sunrise® impact multiple dimensions of the body's health. It is a more complete solution to a total wellness approach. • Helps Boost Energy • Supports Cognitive Function • Increases Cellular Support Enables Effective Stress Management Supports Immune System Encourages Healthy Digestion Maintains Heart Health Normalizes Blood Sugar Level Promotes Joint Flexibility
Kyäni reserves the right to void any transaction entered into by anyone using the Kyäni Web Site who is under the age of 18 years of age. Read Kyäni's policies: http://downloads.kyani.net/Business%20Documents/Ky%C3%A4ni%20Internet%20Privacy%20Policy.pdf
ANY QUESTIONS? PLEASE CALL 808-955-2345 OR SEND EMAIL TO CHRIS@KYANIHAWAII.COM AND I CAN HELP YOU WITH YOUR OPTIONS.
$49.95 Seller Suggested Value
Like this page? Share it on Social Media
Copy and paste this link for marketing on the web
Open Shop:

18 May 2016

Last Update:

18 May 2016

Company:

Kyani

Company ID:

128514
Report this page
To keep our shoppers and community safe from fraud and misleading information, we ask that you report any suspicious activity.
People Also Viewed These Products
Know someone who needs to sell their products?
Be a friend and assist them in their business growth by referring them to our marketplace
Email a Friend